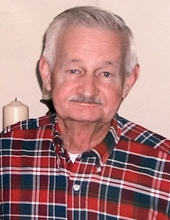 Obituary for Roger Williams
On September 30, 2019, our city, state and nation lost a good man, indeed, a great man. At a time when our Nation yearns for great men, we lost one of the best. A dedicated husband, father, grandfather and great-grandfather, Roger Fletcher Williams passed away in the presence of his loving wife, Mary, and loving daughter, Cheryl.

Roger's life was the culmination of all we know of love.

A young man who chased his father's own heart, throughout life he often recounted the treasured memories of hunting with his father as a young man.

As both a Father and Grandfather, he was the consummate example of a father's love, and led by the example of his own tremendous life and experience. This included giving of himself to his friends and community. In the early the years of his family, he made time to serve as a volunteer firefighter. In fact, he was named Volunteer Fireman of the Year in 1963 for Lithia Springs. He also served as constable from 1965-1969 for District 1273. Further, many friends attest to his generosity over the years during their times of need. During the wartime deployment of his son-in-law, Roger opened his home to his daughter Cheryl and grandson Zach, shepherding them through the emotionally challenging separation from "dad".
Professionally, Roger was a self-made, accomplished international businessman. Picking up from his early years as an appliance and furniture salesman at the Hometown Furniture Store in Lithia Springs, he expanded his horizons stretching from the Southeastern U.S. all the way to Asia. Through his enormous work ethic and substantial expertise in marketing and sales, he help build Taching Imports from struggling start-up to an international success story. Later, he used that same tenacity as he founded two prominent and successful businesses in Carrolton: World Bazaar Imports and Curious Cargo.

All that said, by far, Roger would have you know that his greatest accomplishment during his time on this side eternity was courting to marriage the love of his life Mary. Truly, Roger and Mary's love story is that of a slow dance for the ages. It's the stuff Hollywood turns into motion pictures. He and Mary just recently celebrated their 58th Anniversary.

During one of her many trips 'back home' to Lithia Springs while her dad, a United States Marine, deployed, Mary met Roger in the 3rd Grade. Back then, he showed his fancy for her by popping her balloon at the County Fair. But, their paths would cross again many times with each of her dad's subsequent deployments with the Marines – in the 6th grade, 10th grade and after graduation. Fate would have it that the Hometown Furniture Store at which Roger worked was conveniently on the way to the New Post Office. Each day when Mary, who was engaged to someone else at the time, walked by the furniture store on her way to the Post Office to check for a letter from her distant fiancée, Roger would kindly greet her and make polite conversation. It wasn't long before Mary's walks actually ended at the furniture store and the ring disappeared from her left hand. Roger and Mary courted for three years. When he couldn't stand being away from the love of his life any longer, Roger drove from Lithia Springs to Marine Base Camp Lejeune, North Carolina and picked up his future wife, her mother and a brother and sister and returned to Lithia Springs to get married. There is no doubt that in his final moments on this Earth, Roger was gazing into Mary's eyes remembering their young, perfect and ever-lasting love.

It goes really without saying that Roger will be truly missed and loved every second of every day until we're all reunited.
Roger was preceded in death by his father, Price Williams; his mother, Mildred Smith; his son, Christopher Williams; his four sisters: Shirley Orbison, Janette Gniewek, Margie Slade, and JoAnn Daniels.

Roger is survived by the love of his life Mary Williams; his daughter Cheryl; son in law Michael Mize; granddaughter Victoria Mize, grandson Zachary Mize and his bride Hannah Mize and great-grandson Julian Fletcher Mize; he is 2 months shy of another great grandson.
His family will be receiving visitors at Almon Funeral Home in Carrollton, Georgia on Friday evening from 6:00 - 8:00 pm on Friday October 4th. His service will be on Saturday October 5th at 2:00 pm. His service will be officiated by Associate Pastor Jason Smith (Husband of niece Tonya Smith). Entombment will follow at Carroll Memory Gardens Mausoleum.
Pallbearers will be Jeff Jerkins, Grant Jerkins, Russell Cook, Kevin Lewis, Joshua Lewis, Todd Cowan, all nephews of Roger. Honorary Pallbearers are Chris Williams, Hal Roberts, and Robert Ogle, all dear friends and neighbors.

In Lieu of flowers, Roger requested a donation to The Shepherd's Chapel P.O. Box 416, Gravette, Arkansas 72736 in order for them to continue to spread the word of God through their broadcasting ministry. Roger and Mary's Church membership is there due to their inability to physically attend church.

Messages of condolences can be expressed to the family online at www.almonfuneralhome.com.

Almon Funeral Home of Carrollton, GA has charge of arrangements.
Previous Events
Visitation
Almon Funeral Home
548 Newnan Street
Carrollton, GA 30117
Funeral Service
Almon Chapel
548 Newnan Street
Carrollton, GA 30117
Cemetery Details
Location
Carroll Memory Gardens
914 Stripling Chapel Rd
Carrollton, GA 30116