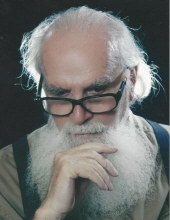 Obituary for Hossein Noori
Dr. Hossein Noori, age 89 of Carrollton, Georgia passed away Sunday, August 19, 2018.

Dr. Noori was born in Tehran, Iran on March 21, 1929, the son of the late Abdol Razzaq Noori and Zobeideh Noori.

Dr. Noori received his law degree from the University of Tehran. During his time as a student, he was active in nationalist and pro-democratic political movements, including the movement to free Iran's oil industry from British control. The movement to nationalize Iran's oil industry later became the topic of his dissertation. After immigrating to the US in the 1950s, Dr. Noori studied both at Brigham Young University and the University of Northern Colorado where he earned his doctorate and met his future wife, Kathryn Noori. They were married in 1967 and began a many decades long adventure together. Throughout his long academic career, Dr. Noori taught at numerous colleges and universities. He started his academic career at Brenau College in Gainesville, Georgia. From there he went on to teach in Iran, Ethiopia, New Zealand, the United Arab Emirates, Brunei, Azerbaijan, and Ethiopia. His longest tenure was at Tuskegee University in Tuskegee, Alabama where he taught for 12 years. Dr. Noori retired from Khazar University in Baku, Azerbaijan in 2008 at the age of 79 and moved to Carrollton, GA to be near his family. Dr. Noori had many intellectual pursuits and read widely. While in Carrollton, GA he took classes at the University of West Georgia in a variety of subjects from French Film to Philosophy. At the time of his death, he was translating a compilation of poems from the medieval Persian poets Hafez, Rumi, and Omar Khayyam, which will be published posthumously. More than anything, Dr. Noori enjoyed the company of his grandchildren, son, daughter-in-law and his wife, the love of his life.

Survivors include his wife, Kathryn Noori; son and daughter-in-law, Neema and Susan Noori; grandchildren, Georgia and James Noori, and his beloved nephews, nieces, and extended family in Iran.

No services are planned at this time. Those desiring may make memorial contributions to the International Rescue Committee, P.O. Box 6068, Albert Lea, MN 56007-9847.

Almon Funeral Home of Carrollton has charge of arrangements.