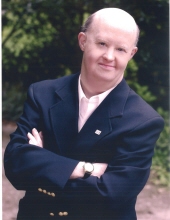 Obituary for Wesley Estes
A LIFE WELL LIVED

Mr. Alton Wesley Estes, age 63 of Carrollton, Georgia died Friday, February 23, 2018.

Living in Carrollton for his entire life, Wesley was an ambassador for people with Down Syndrome. He was born June 27, 1954, at a time when services were not available for children with Down. His parents, Alton and Frances Estes, chose to give Wesley every opportunity to thrive and have a life of value. They were instrumental in founding the first School of Hope at Carrollton First Baptist Church for children with disabilities and were charter members of the Carroll County Association of Retarded Citizens (ARC). They helped establish the Carroll County Training Center, which provides support for citizens with developmental disabilities, enabling them to have the best possible quality of life and to be treated with dignity and respect.

Wesley attended the Training Center daily, enjoying his interaction with the staff and other clients. For several years he served as president of the Aktion Club at the center, sponsored by the Kiwanis Club. It was here Wesley met and formed a strong and loving relationship with Beth Hubbard.

He was a valued member of the First Baptist Church his whole life, where his sunny disposition and sweet spirit were blessings to the congregation. He had a special friendship with Pastor Steve Davis, as they shared the same birthday and had celebrated together each year since Dr. Davis came to Carrollton 21 years ago. Wesley had a great memory for old friends, calling their names and greeting them with a hug.

An alumna of West Georgia, Wesley's mother Frances involved him in alumni activities. In 2005 he was given the Honorary Alumnus Award.

He loved country music, and made numerous trips with his family to Branson, Nashville, and Myrtle Beach, where he was the most enthusiastic fan in the concerts. His most recent trip was with his sister, Celeta, to attend a retreat in Plains. There he met President Jimmy Carter, someone he had admired since he met him as Governor Carter.

Wesley was preceded in death by his parents, Alton D. Estes and Frances Floyd Estes of Carrollton. He is survived by his sister, Celeta Estes Cavender, Carrollton; his aunt, Lois McWhorter, Carrollton; nieces and nephews, Jackie Asbill (Charles), Jenny Abreu, David Cavender (Suzi), Edmond Cavender; great-nieces, Nicole Abreu and Kaylee Ann Cavender; great-great nephew, Matt Bertran; and numerous cousins.

Wesley's life was a gift to all who knew him. As his cousin Mitzi said, "If it had not been for Wesley, we may never have understood that a person with disabilities can have a full life." Celeta recently wrote about her little brother: "I thought I knew Wesley, but these last months have allowed me to know him in a much deeper way. He inspires me to be more trusting and childlike."

A memorial service will be held Saturday, March 3, 2018, at 2 p.m. at the Carrollton First Baptist Church, with Dr. Steve Davis officiating. The staff and clients of the Carroll County Training Center will serve as honorary pallbearers. A reception will follow the memorial service in Burns Hall at the church.

In lieu of flowers, memorial contributions may be made to the Carroll County Training Center, 200 Alton Estes Drive, Carrollton, GA 30117.

Messages of condolences may be expressed to the family online at www.almonfuneralhome.com.

Almon Funeral Home of Carrollton has charge of arrangements.
Previous Events
Memorial Service
First Baptist Church
102 Dixie St.
Carrollton, GA 30117
Reception
First Baptist Church
102 Dixie St.
Carrollton, GA 30117
Memorial Contribution
Carroll County Training Center
200 Alton Estes Dr.
Carrollton, GA 30117