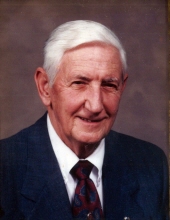 Obituary for Franklin Willis Fidler
Mr. Franklin Willis Fidler, age 95 of Carrollton, Georgia passed away Sunday, September 10, 2017.

Mr. Fidler was born October 12, 1921, Columbus Day, in Harrisville, West Virginia. At an early age, he and his family moved from West Virginia to Baton Rouge, Louisiana. Frank graduated from Baton Rouge High School and Louisiana State University with a Mechanical Engineering degree.

While attending LSU, Frank was a willing member of the ROTC unit. From June 29, 1942 until July 2, 1946, Frank proudly served in World War II and achieved the rank of First Lieutenant in the United States Army while in active duty overseas in the China-Burma-India conflict.

In July 1984, Frank retired from Plantation Pipeline having worked in Baker, Louisiana, Bremen, Georgia and at their corporate headquarters in Atlanta, Georgia.

Frank was a faithful and devoted member of the Carrollton Presbyterian Church, serving many years as an elder. For thirteen years he led the church as the Clerk of Session, a record for which now the position is limited to a term of only three years. He proudly became the Pack Leader of the Boy Scouts of America, Troup 179.

In addition to his devotion to his church, Frank was an avid outdoorsman, spending many days hunting and fishing and became president of the Carroll County Sportsman's Club. As a civic leader, he was a robust member of the Carrollton Kiwanis Club having attained perfect attendance for 54 years. An achievement he was very proud of and willing to openly discuss. He also received his Hixson Fellow Award and served as president from 1962-1963.

Frank was preceded in death by his parents, Leland Willis Fidler and Belva Rexroad Fidler; sisters, Sara Fidler Barrow, Dina Fidler Robinson; brother, Denver Fidler. He is survived by his wife of 69 years, Hattie Vivian Stokes Fidler; his three children, sons; Lee(Alison) Fidler, Kirby Fidler; daughter, Mary Anne (Andy) Taylor; three grandchildren, Robin Fidler Lee (Dave), Ellison Fidler, Mac Fidler; sisters, Jane Olmstead and Joan Parsons.

Frank, "Widdy" or "Pop Pop", will be fondly remembered for his devotion to his God, Country and Family, and his love for the LSU Tigers. He was a very loyal, caring, dependable and faithful man who also had a funny characteristic.

The entire Fidler family expresses sincere THANKS to Heaven Sent Helpers, their special caregivers, Darlene Priest, Kathryn Gentry, Kathy Vinson and to every member of the Pine Knoll Rehabilitation Center for all of their excellent care.

The family will receive friends at Almon Funeral Home on Friday, September 15, 2017 from 5 p.m. until 7 p.m.

A celebration of Life will be held Saturday, September 16, 11 A.M. at Carrollton Presbyterian Church with the Reverends Tom Buchanan and Jan Tolbert officiating. Music will be provided by organist, Dawn McCord and soloist, Mimi Gentry.

Pallbearers will be Jim Carter, Wylie Barrow, Leland Barrow, Mac Fidler, Andy Taylor, Steve Hudgins and Wesley Robinson. Honorary pallbearers will be the Carrollton Kiwanis Club.

Interment will be in Carroll Memory Gardens. American Legion Post #143 will fold and make the flag presentation.

In lieu of flowers, the family requests memorial gifts to the Carrollton Presbyterian Church, 124 Maple Street, Carrollton, Georgia 30117.

Messages of condolences may be expressed to the family online at www.almonfuneralhome.com.

Almon Funeral Home of Carrollton has charge of arrangements.
Previous Events
Visitation
Almon Funeral Home
548 Newnan Street
Carrollton, GA 30117
Funeral Service
Carrollton Presbyterian Church
14 Maple Street
Carrollton, GA 30117
Cemetery Details
Location
Carroll Memory Gardens
914 Stripling Chapel Rd
Carrollton, GA 30116