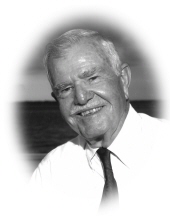 Obituary for Dr. J. Mark Miller
Dr. J. Mark Miller
Local legend, Dr. Jonah Mark "J. Mark" Miller joined the heavenly body on the 7th of August, 2017 at the age of 90 (May 23rd, 1927 – August 7th, 2017). Dr. Miller was born in Southeast Georgia near Cairo, the 10th of 11 children born to Ida and James Miller. He had to quit school after only 7th grade, in order to work and assist his family. Although he grew up financially poor, they were rich in the Spirit of God, which he graciously shared throughout his life.
At age 17, J. Mark joined the U.S. Navy toward the end of WWII, serving in Pearl Harbor, Hawaii. He also served during the Korean War in the U.S. Air Force on Okinawa, Japan. It was in the Armed Forces that he learned to be a leader.
J. Mark attended Florida State University, shortly after it accepted co-eds. That's where he met his Florida beauty, Grace Thompson. They finished their undergraduate degrees in Tallahassee, and then moved to Baton Rouge to attend Louisiana State University to pursue graduate and doctoral programs, with two kids in tow.
He was recruited to West Georgia College by Dr. Irving Ingram in 1964. Even before he arrived, he had begun developing the staff structure and proposed curriculum to start the Department of Business. J. Mark led West Georgia College's efforts to gain University status, enabling the Department of Business to achieve accreditation. While Dean of the School of Business, he also served as the National President of Alpha Kappa Psi professional business fraternity, which accepted males and females alike. He even had a following of female fraternity sisters who called themselves "J. Mark's Angels" and wore T-shirts stating this. Gracie did not mind…too much. He was also a member of Beta Gamma Sigma, international honor society.
After his retirement from UWG, he served as interim Dean of the Schools of Business at both Savannah State University, and Western Kentucky University, where he was well received and respected.
In 2014 the University of West Georgia was proud to celebrate the dedication and naming of the business building in honor of Dr. J. Mark Miller. He was so humbled and honored by these efforts, because it all began with a vision, and was brought to fruition by fine faculty and staff who joined the team; he believed in engaged education and in the power of communication and collaboration.
J. Mark joined First Methodist Church in 1964 and has faithfully and continuously supported its missions. He co-taught the "Men's Sunday School Class" for 30+ years with Dr. Melvin "Mel" Steeley. Although his faith in God was solid, he was not afraid to challenge his understanding of the Holy Scripture. He studied scriptures from Old Testament, New Testament, Torah, Quran. He enjoyed preparing for class, knowing that he'd have to compete with politics (Mel Steeley) and football (Cecil Duffy).
He was supportive of the Boy Scouts of America and its value to young men. He accepted the role of the District Chairman of Boy Scouts, and eventually received the highest Scouting honor for his service, the "Silver Beaver Award".
J. Mark was responsible for bringing the Salvation Army Center to Carrollton, and served as the first Chairman of the Board for many years. Every Christmas season, you could see him (and his family and friends) at store fronts ringing the Salvation Army bell. Like the Salvation Army, "Doing the Most Good" was his personal motto. J. Mark cared deeply about his community, and was integral in the establishment of recycling services in Carroll County.
J. Mark was one of the first mediators in the Magistrate Court of Carroll County. He loved to help people work out their differences and come to a viable agreement, which kept many cases out of the courtroom. In the 1970s, he was chairman of the Carroll County Republican Party.
He was a member of the Golden K Club and served as Lieutenant Governor, District 20, from 2003-2004. Previously, he was actively involved in Carrollton Kiwanis Club, serving the youth of the world. He thoroughly enjoyed reading to Roopville Elementary Pre-K students each week for the past several years, on behalf of Golden K.
Over the past 35 years, J. Mark and Grace hosted several foreign exchange students from Sweden, Germany, Indonesia, China, Czech Republic, Ukraine, Japan, Lithuania, Latvia and Estonia. This is something that truly enriched their family.
J. Mark loved his family dearly, and was always there for them. He is survived by his wife of 65 years, Grace, and children, Mark & Laura; Marlin & Jennifer; Susan & Reid; Margaret & Don; and Roy & Lisa as well as twelve grandchildren, Jeremy, Katie, Britney, Mark, Shelby, Adam, Zachary, Ethan, Victoria, Sophia, Anne-Marie, Dawson and Maria, all of whom adored him, and whom he adored and sister, Jeanette Teate. He will be sorely missed, and impossible to replace. Besides his parents, he was preceded in death by 9 brothers.
The family will receive friends at Almon Funeral Home on Friday, August 11 from 1 p.m. until 3 p.m. and 5 p.m. until 7 p.m.
A Celebration of Life service will be Saturday, August 12 at 11 a.m. at the Carrollton First United Methodist Church. Family will receive friends in the Gathering Room from 10 a.m. until the service. A reception will follow the service in the fellowship hall.
American Legion Post #143 will provide military honors.
Donations may be made in Dr. Miller's honor to Inside Ministries (Clemmie's House), Salvation Army or First United Methodist Church.
Messages of condolences may be expressed to the family online at www.almonfuneralhome.com.
Almon Funeral Home of Carrollton has charge of arrangements.
Previous Events
Visitation
Almon Funeral Home
548 Newnan Street
Carrollton, GA 30117
Visitation
Almon Funeral Home
548 Newnan Street
Carrollton, GA 30117
Celebration of Life
Carrollton First United Methodist Church
206 Newnan Street
Carrollton, GA 30117