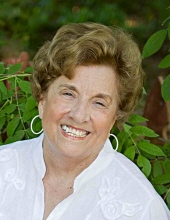 Obituary for Mrs. Norma C. Fulbright
Norma Shearer Cowart Fulbright, age 92, died on November 2, 2019 in Carrollton, Georgia. She was born on November 1, 1927 in Collins (Tattnall) Georgia to the late Nella Duchess Lynn and the late Potter Preston Cowart. She was a beautiful and popular young woman, but her eyes never turned away once they turned to Dr. Holman Maxom "H.M." Fulbright whom she married on August 21, 1949.

Mrs. Fulbright completed a business degree from an Atlanta business college, but soon decided that her future was in education and she headed to Statesboro's Georgia Teacher's College (currently Georgia Southern University) where she obtained a Bachelor's Degree in Early Childhood Education and met her beloved H.M. (as they both joined the Baptist Student Union Choir). The partnership and the marriage between Norma and H.M. Fulbright was as perfect as is possible; they were not only joined in their shared values and their love for one another, but also in their dedication to the education of Georgia's young.

Norma Fulbright began her career in education in 1949 and taught in high schools in both Twiggs County, Georgia and Fitzgerald, Georgia before she accepted a post as a kindergarten teacher in Carroll County for the 1966-1967 school year as her husband was assuming the roles as the new Superintendent of Schools for the Carrollton City School System. Although she loved her life as a teacher, she dreamed of creating a school that would offer some of the youngest minds the best possible start in life. In 1969, in partnership with her husband, she developed an innovative curriculum for one of the first kindergarten programs in the state that was attached to a public school system. What may seem commonplace now was cutting edge in 1969 –kindergarten programs at the time were private, not public, and they were the purview of the upper middle class and affluent rather than the masses. Mrs. Fulbright imagined a public kindergarten that would offer the usual core education but also incorporate novel teaching methods and new ideas such as activities that focused on a positive reward system, frequent participation of family members in school activities, and the acquisition of useful and basic life skills. The City Kindergarten garnered praise and became a model for kindergarten programs throughout Georgia and the country. While a great deal of research has since clearly demonstrated the great value of early education, Norma Fulbright was certain long before that early education was fundamental in providing all children a firm basis for life-long success regarding of the family's income level.

But the City Kindergarten had yet another purpose. The 1969-1970 school year was pivotal as the first year of racial integration in Georgia's public school system. Part of the Fulbright's integration plan was to equally distribute the city's students, as well as the teachers and support staff, across all of the existing schools. All the schools would be used, including the historically Black Westside Elementary on High Street that was chosen as the new home of Carrollton City Kindergarten. It began with a small budget and only 3 teachers. Yet under Mrs. Fulbright's skillful leadership the attendance at the City Kindergarten reached approximately 200 students yearly (with a consistently long waiting list). Mrs. Fulbright taught the first year that it opened, but she stayed on as its Director for more than a decade.

Mrs. Fulbright retired in August 1985 as her husband took on the role as the President of Truett-McConnell College in north Georgia. She joined him as a full partner in completing their goal of putting the institution back on solid financial footing and a more positive future. Mrs. Fulbright was in her element at Truett-McConnell College – entertaining, assisting the young adults who attended to learn the social skills that would help them be successful in the adult world, and partnering with her husband once again to bring about enduring, positive changes to an institution of learning in need of transformation. The Fulbrights served Truett-McConnell College and Georgia Baptists there for 7 years before returning to their beloved Carrollton in 1993. Norma lost H.M. only a short time later, in August 1994.

Mrs. Fulbright felt lucky to be able to spend her life teaching, but the students with whom she came in contact will quickly tell you that they were at least equally blessed to have had her in their lives. In fact, she was a favorite guest of honor at many 30th, 40th, and 50th class reunions and more than once former students were drive in groups to visit or to have lunch with her decades beyond graduation. The official awards and acclaims were numerous over her many years of service to the public schools of Georgia, to her church, and to her community even though she did not seek acknowledgment. Her final honor was receiving the Living Legacy Award in 2014 from the Center for Diversity and Inclusion of the University of West Georgia for her "dedicated efforts to integration in Carroll County during the late 1960's and early 1970's … a vital time during the civil rights era."

Mrs. Fulbright was a devoted member of the First Baptist Church of Carrollton and a member of the Fidelis Sunday School Class; she participated in many community organizations through the years, including Art Study Club and Carrollton Red Hat. Even with the poor health that she faced over the last years of her life, she continued to enjoy frequent visits and conversation with her family. It seemed to those observing her life that Norma Fulbright may fall outside of the laws of the universe and human follies. She could lead like an experienced General, but despite her ability to be tough she was loved sincerely by everyone who knew her. She was known for her impeccable manner of dress (especially her always elegant high-heeled shoes), but there was not an ounce of her that you could describe as severe and spending time with her was just plain fun. She never yelled at her children or any children, she never treated anyone cruelly, and she never acted as a result of jealousy. She was completely devoted to her family at the same time that she was wholly professional and competent in her career.

Norma Fulbright was predeceased by her husband, Dr. H. M. Fulbright; her son-in-law Charley B. Smith; and her siblings John, Enoch, Russell, Jocelyn, Frances, and Nella Jean.
She is survived by her children Norlydia (Eric) McBee of Villa Rica, Georgia and Max (Sherrie) Fulbright of Carrollton, Georgia; her grandchildren Amanda (Jake) Parian, Max Fulbright III, Ross (Kristen) McBee, Brooke (Neal) Shontell, Haley McBee, Ryan Fulbright, Rhett Fulbright, and Tony Fulbright; her great grandchildren Hollis Parian, Bryce McBee, Hatton Parian, and Carter McBee; and a great grandchild that is expected to make her appearance in the world shortly, Lowry Parian. She is also survived by a sister-in-law, Anne Marie Cowart, and many nieces and nephews, great nieces and nephews, and great-great nieces and nephews. The family wishes to extend their gratitude to Brooke and Neal Shontell (with their furry sidekick Maxwell) for their love and dedication to Mimi in her precious final 3 years. The family also wishes to express their sincere appreciation to Dr. Brad Larson, Dr. Chris Arant, and Dr. William Berard for their love and support during some difficult days.

The family will receive friends on Wednesday November 6, 2019 between 5:00-7:00 pm at Almon Funeral Home in Carrollton, Georgia. The funeral service will be held on Thursday November 7, 2019 at 3:00 pm at the First Baptist Church in Carrollton, Georgia. Almon Funeral home is in charge of the arrangements. The officiants for the services will be Dr. Steve Davis and Dr. Jim Lewis (nephew). Interment will be in Carroll Memory Gardens with Reverend James Bland officiating. Her pallbearers will be Brian Brown, Tom Dooley, Peyton Edenfield, Neal Shontell, Jackie Trim, and Russ Yeomans and the honorary pallbearers will be the Fidelis Sunday School Class and the current and former teachers and staff of Carrollton City Kindergarten.

If desired, memorial contributions may be sent to the Carrollton Association of Educators (CAE) "Dr. H. M. and Norma Fulbright Memorial Scholarship." These contributions may be sent to Mrs. Leigh Crews, Carrollton Elementary School, 401 Ben Scott Blvd., Carrollton, Georgia 30117, designated for the Fulbright Scholarship.

Messages of condolences may be expressed to the family online at www.almonfuneralhome.com.

Almon Funeral Home of Carrollton has charge of arrangements.
Previous Events
Visitation
Almon Funeral Home
548 Newnan Street
Carrollton, GA 30117
Funeral
First Baptist Church
102 Dixie St.
Carrollton, GA 30117
Cemetery Details
Location
Carroll Memory Gardens
914 Stripling Chapel Rd
Carrollton, GA 30116