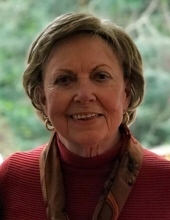 Obituary for Martha Duffee
Martha Graves Duffee, age 87, died peacefully in her sleep at home in Carrollton,
Georgia on April 8, 2019.

A native of Dadeville, Alabama, Martha graduated from Auburn University where
she was a member of Kappa Delta sorority. She attended graduate school at Ohio
State, then moved to Manhattan Beach, California and was a flight attendant for
TWA, flying all over the country with many stars from the 'Hollywood Glamour'
days, including Frank Sinatra and Elizabeth Taylor.

In 1959, Martha drove her MGA convertible across America all by herself to come
home to Alabama and marry Bill Graves in Alexander City. Within a short time,
Martha and Bill had three children.

In those early years back home, Martha was a school teacher at the old Russell
School, enthralling the school children (and everyone in town) with her
cosmopolitan fashion style.

As the children started growing, so did Martha as she began a career in banking.
Martha set the pace for a new generation of women in what had traditionally
been a male-dominated career field. Beginning as a teller at First National Bank in
Alexander City, Martha quickly sought more responsibility and education,
attending and graduating from the BAI School of Banking at the University of
Wisconsin and the Core Audit course at the University of Colorado in Boulder.
Martha rose first to Auditor, then Corporate Auditor, eventually earning the
position of Corporate Vice President of Personnel (now called HR). During her
banking career, Martha served as chairman for the Central Alabama Group of The
National Association of Bank Women, was named Woman of the Year in Banking,
and was selected from a nation-wide search of elite executives as a delegate to
the newly opened Soviet Union to assist teaching the people there to live in a free
market.

Martha was a trail-blazer, pace-setter, and mentor to many through her career
and life.

When Bill passed away from cancer, they were both only 57. Martha quickly
became another source of inspiration for women with her zeal for life and living.
She traveled the world, hiking through the Alps and Rocky Mountains, going on
Safari in Africa and sailing through the Greek Islands.

Everyone who knew Martha was thrilled when she found love again later in life.
In the spring of 2003, Martha married Cecil Duffee, someone she had known since
childhood. They lived happily in Carrollton, Georgia for 16 years, enjoying many
friends, neighbors, family and especially all their grandchildren.

Martha was predeceased by her husband William Dawson Graves, III, by her
parents Evelyn Corley Buzbee and David Lawrence Buzbee, her sister Helen
Buzbee Richardson.

She is survived by her husband Cecil G. Duffee, Jr., sister Hilda Buzbee Reault,
children William Dawson Graves, IV, Lauren Graves, and John Patrick Graves
(Stephanie); grandchildren John Patrick Graves, Jr., Corley Elizabeth Graves, and
Katie Anne Graves; stepchildren Stevie Duffee (Julie), Linnie Duffee Dortch (Kirk),
Barbara Bretz Duffee, Robbie Duffee.

Service
A memorial service will be held Tuesday, April 16, 2019, at 3:00 pm at St. James
Episcopal Church in Alexander City, Alabama, with interment at a later date.

Memorials
If desired, in lieu of flowers, memorials may be sent to St. James Episcopal
Church, Lake Martin Animal Shelter, or a charity of your choice.

Messages of condolences may be expressed to the family online at www.almonfuneralhome.com.

Almon Funeral Home of Carrollton has charge of arrangements.
Previous Events
Memorial Service
St. James Episcopal Church
347 S. Central Ave.
Alexander, AL 35010