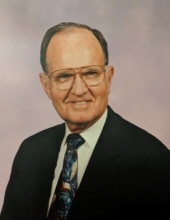 Obituary for Andrew Russell "A.R." McGukin
Mr. Andrew Russell "A.R." McGukin, age 95 of Carrollton, Georgia passed away Monday, September 24, 2018 at his home.

Mr. McGukin, the son of the late Russel McGukin and Clara Hurst McGukin, was born May 13, 1923 in the Center Point Community of Carroll County. He was educated in the public schools at Temple where he won Grand Champion Steer Award and received a trip to Washington D.C. After high school he began a job through the U.S. Agriculture Department as Money Keeper for Tobacco Auctioneers in Vidalia, Georgia. He then transferred to Summerville, Georgia where he worked for several years as a dairy inspector. He later attended West Georgia College.

World War II had erupted and like millions of other younger Americans, Mr. McGukin responded to His Nation's call and served in the European campaign. After discharge, he returned home and married the love of his life Sylvia Brock and they were married for 62 years and raised five children. He began his career with Carrollton Federal Savings and Loan Association. Through a keen insight and knowledge of the business, he quickly rose in the organization and retired as President and Director. During his banking career he received high honors having served as President and Director of the Georgia Savings and Loan League, and Director of the Southeastern Conference of the U.S. Savings and Loan League. He also was a member of both the Legislative Committee of the United States and Georgia Savings and Loan Leagues.

Mr. McGukin also held numerous other civic positions including: Director of the Carroll Service Council; Chairman of the Carroll County Citizens Road Bond Committee; Chairman of the Board of Trustees of Central School; Chairman of the Carrollton Planning Commission; Chairman of the Carrollton Payroll Development Authority; President and Director of the Carrollton Service and Development Corporation; Chairman of the West Georgia Regional Library Board of Trustees; trustee of Tanner Medical Hospital; trustee of the West Georgia College Foundation, Carroll County Development Authority; Board of Directors Carroll County Livestock Barn; past President of International Association of Lions Club.

Throughout his career he received many awards including: Carroll County Chamber of Commerce Citizen of the Year; Carroll County Sertoma Club Service to Mankind Award; West Georgia College Alumni Association Achievement Award; Carrollton Baptist Association Dedicated Christian Layman and Lions Club Melvin Jones Fellows Award.

Mr. McGukin was active in the affairs of his church. He was Past Chairman of the Board of Deacons of Oak Grove Baptist Church. He served the church as a Deacon and taught a Sunday School Class. He was former chairman of the Board of Trustees, West Georgia Baptist Assembly and served in prominent roles on the activities of the Carrollton Baptist Association.

He was a Christian gentleman, a man of solid character and integrity, a man of high ideals, a man of warmth and compassion and will be missed greatly by his community, friends and family.

He is survived by his five children; Mike McGukin of Carrollton, Dr. Don (Susan) McGukin, of Tupelo, Mississippi, Phil (Sue) McGukin of Carrollton, Tim (Sharon) McGukin of Carrollton, Susan Williams of Carrollton; eight grandchildren, Rev. Matthew (Marty) McGukin, Angie McGukin, Todd McGukin, Drew McGukin, Shea (Bennett) Baker, Kane (Ashley) McGukin, Chad (Denise) Fuller, Michelle (Devin) Buekes; great grandchildren, Micah, Daisy, Noah McGukin, Linley and Peyton McGukin, Wells and Tate Baker, Kace Fuller and Karley Fuller; brothers, John McGukin, Lester McGukin, Gene McGukin; god daughter, Dr. Gwyn Goodwin (Dr. Clyde) Navarro and their children, Gavin and Gia. Besides his parents, he was preceded in death by his wife, Sylvia Brock McGukin; sister, Ruth McLaughin; son-in-law, Richard Williams and a grandson, Daniel James McGukin.

The family will receive friends at Almon Funeral Home on Wednesday evening from 5PM to 8PM.

Funeral service will be held Thursday, September 27 at 11am from the Oak Grove Baptist Church with Rev. Dan Dockery and Rev. Matthew McGukin officiating. The family will receive friends at the church from 10am until 10:45am.

Pallbearers will be Chad Fuller, Todd McGukin, Drew McGukin, Kane McGukin, Devin Buekes and Bennett Baker.

Interment will be in the church cemetery with American Legion Post #143 providing military honors.

In lieu of flowers, memorial contributions may be made to Oak Grove Baptist Church, 2829 Oak Grove Church Road, Carrollton, GA 30117.

Messages of condolences may be sent to the family at www.almonfuneralhome.com.

Almon Funeral Home of Carrollton has charge of arrangements.
Previous Events
Visitation
Almon Funeral Home
548 Newnan Street
Carrollton, GA 30117
Visitation
Oak Grove Baptist Church
2829 Oak Grove Church Rd
Carrollton, GA 30117
Funeral Service
Oak Grove Baptist Church
2829 Oak Grove Church Rd
Carrollton, GA 30117
Cemetery Details
Location
Oak Grove Baptist Church Cemetery