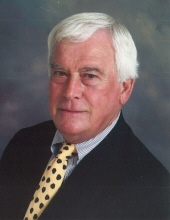 Obituary for Joseph "Joe" B. McGinnis, Sr.
When reflecting upon his life, it is impossible to think about Joe McGinnis, Sr. without connecting him to thoughts of family and community. Those who knew him well never questioned his priorities: his faith, his loved ones, and his hometown. His friends knew him to be authentic and sincere with a keen sense of humor, unwavering loyalty, and an unselfish dedication to public service. He died Monday, July 24, 2017, at the age of 80.

Born in Carroll County to Gilbert Lee McGinnis and Lois Barronton McGinnis, Joseph "Joe" Bertrand McGinnis, Sr. embodied all that is great and wonderful about small town life. Mr. McGinnis loved his home and family, but it was not always easy. At 15, he became head of the household when his father passed away. From that moment forward, he took on the responsibility of caring for his mother, sister--Joyce McGinnis, and younger brother--Jerrell McGinnis, and this strong commitment to family was a defining characteristic throughout his life.

A 1955 graduate, Mr. McGinnis proudly represented his high school, serving as Carrollton High School Student Council president his senior year. He lettered in baseball, track, and football and was inducted into the Carrollton High School Hall of Fame in August of 1987. Captain of the CHS football team of '54, he wore number 55 proudly at quarterback. He always played hard and received recognition his senior year from his teammates as having the most team spirit. It was also during his senior year when he was voted Mr. CHS, along with Miss CHS, Carole Copeland--his future wife, an honor they shared with two of their classmates.

After high school, Mr. McGinnis earned a Bachelor's of Science in Business Administration from Georgia State University. Throughout his life, he worked diligently and was blessed with an extensive and successful career in sales. Nearing the end of his career, Mr. McGinnis worked for Macklanburg Duncan and eventually retired as a real estate appraiser in his own business--McGinnis Appraisals.

Mr. McGinnis was also dedicated to his community and its schools. His service, as Carrollton's mayor and a long-time school board member, spanned more than three decades. He loved his alma mater and was committed to supporting the Carrollton City School System, where he served on the school board for a total of 28 years, holding the office of board chairman for six of those years. After 16 years in this role, Mr. McGinnis was elected mayor of Carrollton. As mayor, he was instrumental in making Carrollton the city it is today. He laid the foundation for the development of the Main Street program, the procurement and renovation of the historic train depot, the development of East Carrollton Recreation Center, and the purchase of two important properties, one which is now the Carrollton Cultural Arts Center and the other, the popular AMP.

After serving as mayor, Mr. McGinnis returned to the Carrollton City Board of Education, where he supported the school district for 12 more years. During his years on the school board, he has been instrumental in supporting the district's continuous improvement. In addition, Mr. McGinnis volunteered his time and energy with Habitat for Humanity, Carroll County Chapter of the American Red Cross, Dawnbreakers Rotary, FEMA, and the Carroll County Historical Society.

Mr. McGinnis was a talented writer. He wrote numerous articles in his column "Ask the Mayor" in the Times-Georgian, where he addressed community concerns and shared heart-warming tales about life in Carrollton, Georgia. He also had two short stories selected for publication in Oh Georgia, and he authored a novel about small town life, The Last Zinnia. He also loved his church and his Sunday School Class--the Men's Bible Class at First Methodist. Even when his health declined, he could always be found at the early morning service or in Sunday School.

Though he lived a life of service, Mr. McGinnis's family always came first. He was a devoted husband and an exceptional role model to his three sons, serving as best man in each of their weddings. He is survived by his wife of 60 years, Carole McGinnis; sons and daughters-in-law, Joe Jr. and Beverly McGinnis of Carrollton, Gil and Melanie McGinnis of Athens, Ga., and Glen and Erin McGinnis of Carrollton; grandchildren Erin, Riley, and Finn McGinnis; brother Jerrell McGinnis of Houston, Texas; niece Cheryl and her husband Mike Leroy of Houston, Texas; and nephews Walt and his wife Hayley Entrekin of Bremen, Ga. and Will Entrekin of Carrollton, Ga. Besides his parents, he was preceded in death by his sister, Joyce McGinnis.

The family will receive friends Thursday, July 27, from 5 to 7 p.m. at Almon Funeral Home in Carrollton. A memorial service will be held Friday, July 28, at 11 a.m. at First United Methodist Church in Carrollton with the Rev. Larry Patton, the Rev. Gil McGinnis, and Dr. Mark Albertus officiating. The Men's Bible Class will serve as honorary pallbearers.

Interment will be in the Carrollton City Cemetery with the Rev. Ken Stephens officiating.

In lieu of flowers, the family requests memorial contributions be made to Carrollton First United Methodist Church, 206 Newnan Street, Carrollton, Georgia 30117 or to Joseph B. McGinnis, Sr. Scholarship, Carrollton City Schools, 106 Trojan Drive, Carrollton, Georgia 30117.

Messages of condolences may be expressed to the family online at www.almonfuneralhome.com.

Almon Funeral Home of Carrollton has charge of arrangements.
Previous Events
Visitation
Almon Funeral Home
548 Newnan Street
Carrollton, GA 30117
Memorial Service
Carrollton First United Methodist Church
206 Newnan Street
Carrollton, GA 30117
Cemetery Details